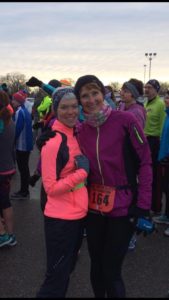 Winterblast Half Marathon (Portage, Michigan) 2/26/17 The 5th annual Winterblast half marathon started off warmer than many of the previous races had. The sun helped tame the 18 degree feel-like temperatures a bit. Approximately 800 runners participated in the 5k, 10k and half marathon races this year. This was my 5th year running the half marathon. It's a great event because it's close to home and you see many familiar and friendly faces throughout the day.
I use the half marathon run as a training run to further build my base for a spring half marathon (Gazelle Girl 2017) and for upcoming bike races (Grit & Gravel and Barry Roubaix) and triathlons (GR Olympic). The first half of the course was a little different from years passed and used a new section of the Portage trail system. The course runs in a figure-8 and comes back to the start (Portage Central HS) about half-way through before heading out for the last 6 miles. It's fairly flat and very well marshalled.
I was pleased with my 'training run' this year and met my targeted pace goal. I was also pleasantly surprised to find out that I ended up taking 2nd in my Age Group as well! This is always a very well-organized event and if anyone wants the experience of a great running experience at the end of February that's close by, I highly recommend the Portage Winterblast!
~Laura Stuchell