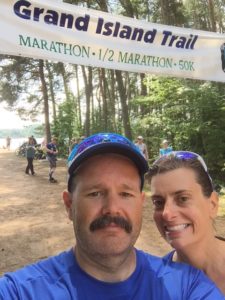 Kevin and I went back to Grand Island to run the Grand Island Trail Marathon and Half Marathon July 22nd. The Island sits among the forests and beaches of Lake Superior's Pictured Rocks National Lakeshore and is simply one of the most beautiful places in Michigan (at least we think so).
It's an early-morning ferry ride to the Island, then a short wait to start the race. I began my race at 6 am, along with the ultra runners and other early-start marathoners. It was just getting light as we started our run and you could see the sun coming up over the horizon as the starting gun went off.The trails are a mix of two-track trails and singletrack. The route follows the perimeter of the Island, running along the beach sand in places, and climbing up to overlook the sandstone cliffs. The area had a lot of rain, so bugs and wash-outs were plentiful, along with mud and humidity. It was a tough, beautiful course. I set a goal to finish around 6 hours and came close, but in the end, I slugged it out to finish 6:12.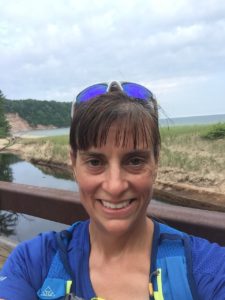 Kevin started at 8 am for the half marathon finish. Like me, he got to enjoy the humidity (did I mention there were lots of bugs too) during his time on the course, finishing his 13.1 miles in 1:57.
If you're thinking of heading to this race sometime, here's a few interesting things about this race to note. The race has amazing and wonderful volunteers, who fill your water bottle at the aid stations (no cups, in fact, everything is pack-in, pack-out). Also, swimming in Lake Superior after the race is divine! Yes, a bit chilly, but after a race like this, it's a refreshing break and a great way to cool down (quickly). One last note, watch out for the Sasquatch that lives on the mainland! We hear he got to meet one of our other WSI Cycling teammates the week prior. LOL ~Katie (and Kevin) Bridges