http://wsicycling.com/ef9ebcaca049200e8cce00f1edc380cc/
peut on acheter alprazolam sans ordonnance
http://wsicycling.com/54aff394b0967a209303b9aabba9d65d/
xanax 0.5 mg buy online
can you buy xanax over the counter in canada
where to buy xanax torn city
This is a story of forgiveness.
I forgive Frankie Andreu.
I am not forgiving him for following his professional cycling moral compass and tooting his whistle on Lance Armstrong. That seems fair and just to me with no forgiveness required. I forgive Frankie Andreu for voting me out of a dance off competition back in 2006. Mike Wood (Trek Store of Battle Creek) was there in Madison Wisconsin when I took to the dance floor after drinking 5 too many Spotted Cow craft beers (before craft beer was cool) at a Trek Bicycles trade show. I frantically thrashed my body with dizzying rhythm to the sounds of late 90s hip hop and gave it my all only to see Frankie Andreu (playing the role of DJ) shake his head and give me a thumbs down, opening and closing the first and last chapter to my dance off dreams.
Fast forward a decade later and I am ready to put forth that same effort at the Heart Smart (Melting Mann) Frosted Fat Tire Relay. ( http://www.frostedfattire.com/) At the start line I hear the voice of the announcer is none other than Frankie Andreu, US Postal team captain, iconic michigan pro and sore spot in the bottom of Dan Frayer's dismantled dancing dreams.
There were 18 total open men's relay teams scheduled to complete 50 miles of the ½ mile gravel loop in Three Rivers. I had a difficult time putting together a team (#butthurt @WSIcycling) and emailed the promoter. He was able to connect me with Paul, Paul and JT. I met them at the start line and became a member of their "Skeleton Krew."
The neutral lap lead out was paced by a green john deer gator. The first go around gave me a good indication of just how gritty my teeth would become throughout the day. The gator pulled off when we passed the official start line and the show got started with a crash. A couple riders went down and I made it through sitting 5th wheel and wheezing hard. I held this position for a lap before my July aspirations succumbed to my January fitness.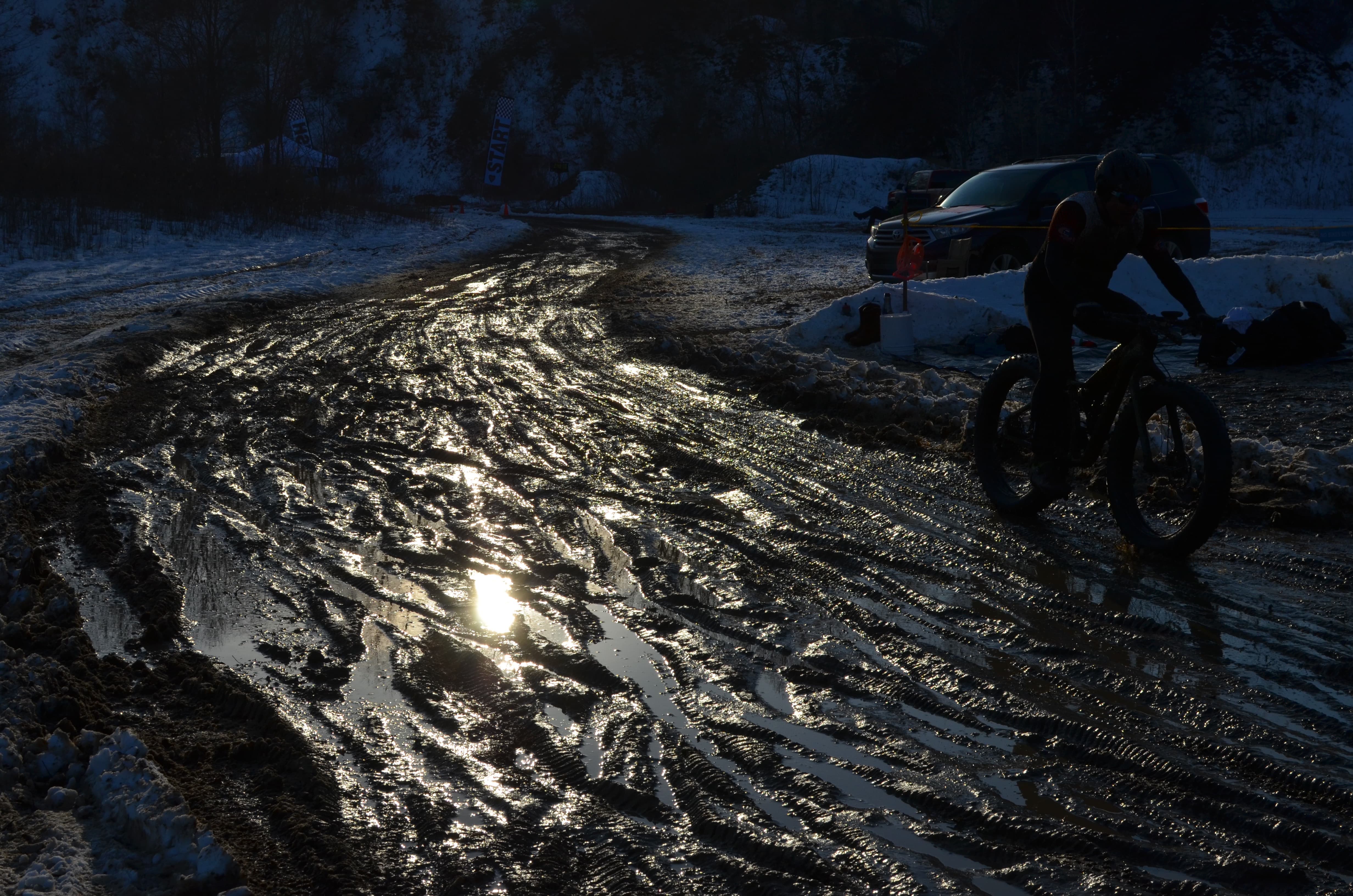 Paul, Paul, JT and I traded out after 10 laps, then 6, then 5 as we worked to keep the pace high as the conditions kept our speed low. As the temperature increased, conditions went from sticky, to slippery to a custom cocktail of peanut butter paired with olive oil. Mother nature's give was sunshine and warm. Her take away was mud. Stinky sloppy mud.
Paul, Paul, JT and I pushed the pedals and worked to keep the rubber side down while a majority of our competition slipped, slid and lapped us on multiple occasions. We kept things honest jockeying between 12th and 13th place most of the afternoon.
After 3 hours of eating mud, getting our boots stuck and trying to clip in to our pedals, the top 3 teams finished their 50 miles, signaling us to pack it up and call it a day. We were grateful that the promoter was not going to require all teams to finish fifty miles since we were over 20 laps down at that point.
I am happy to get the 2018 season going with the support of WSI Cycling and The Trek Store of Battle Creek. (especially considering that my bike is ruined.)
A special thanks to Heart Smart promotions for a great event and Frankie Andreu. I have brought my harbored resentment up to him on two different occasions, both with strong emotion and neither time sober, only to have him smile and nod. After hearing his voice lap after lap, signaling me one step closure to the finish of the race, I realized that life is too short and sometimes you have to keep dancing……even when Frankie Andreu tells you to stop.
~Dan