gador xanax online
http://wsicycling.com/fbb7fb62cdf4b093f99d34a27cd27dc4/
online drug store xanax
where to buy xanax in dallas
alprazolam alternatives australia
So this update is a bit "tardy" getting to the site, but as they say…. better late than never. On Saturday, July 28th I raced the Olympic(+) distance Lumberman triathlon in Cadillac, MI. As I got in the truck to head to the race (bright and early at 5:15 am), the temperature gauge read 50 degrees – HALF of what the temp had been lately (which was a good thing). Additionally, the Cadillac area had got about 3 inches of rain in the past couple of days, which also helped to drop the water temps and made for what I hoped was going to be a much more comfortable race day.
The swim was an "in-water" start and getting into the water racers got to walk through what seemed like a "mine filed" of rocks and other debris until getting to the deeper water and a smoother sandy bottom. I didn't realize it at the start, but after the 1500 meter swim (which could have been a little faster) I started my exit and with the first step of my right foot, felt like I had something jabbed in the bottom of my foot. I even went so far as to try and pull what I thought was in there before transitioning out of the water, but couldn't find anything. So, I ran "half-footed" up the shore to the transition area and before even taking off my wetsuit, sat down (which is not something that you're supposed to do when doing transitions for a triathlon) and figured I'd see a stick jammed well into the bottom of my foot. Good news (kind of) was my foot was just sliced by a Zebra muscle and there was nothing to extract and it didn't bother me once I got on the bike.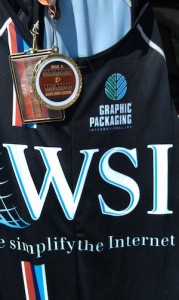 The next event, the bike, is my best and favorite part of a triathlon and I was able to make up a lot of ground from my swim. I'd not been in the water for a bit, so didn't have big expectations for the swim. However, I'd been doing a lot of riding and running so I had big plans to make up some time. I passed a lot of people on the bike and for the most part, the course was flat and fast. Temperatures remained in the mid 60s with a slight breeze and only at the turn-around point did some hills come into play. I was able to pass many of the riders on the hills (as they would not "break" aerodynamic position, but that's not the best way to climb), plus being "clydesdale" size (200 lbs+) the downhills were fast and continued to make up time.
I came into the transition area feeling great, couldn't even feel the cut on my foot, and ready for the last leg, a run around Cadillac Lake. In the opening paragraph, I referred to the event as Olympic(+), which means it was just a bit longer than a typical Olympic distance event since a full lap around the lake is almost 7 miles (and a typical event is a 10k – 6.2 miles). Normally on the run I end up seeing many of the people that I passed on the bike, as I've never been much of a runner. But I had dedicated a lot of my training time to getting faster on the run so I was excited to see if it was paying off.
I came in past the first mile checkpoint around 8:30 which was much faster than I expected, and admit that I cracked a little smile after looking at my watch. The challenge was I had 6 more miles to go and that little voice in the back of my head questioned if I was going to hold that pace for the rest of the run, or if I'd "blow up" half way through. Fortunately, I was able to remain on pace for the remainder of the run and for the first time I actually passed people on the run! Of course, I got passed by a handful of the riders I passed on the bike, but ended up finishing with a 8:50 mile pace for the entire 7 miles. I was very pleased with my time, no leg cramps and finished strong, keeping the footsteps behind me at bay and avoiding getting passed in the final few hundred yards.
I ended up placing 33rd of our around 70 total participants for the day and took 3rd in the Clydesdale division (200 lbs and over). My swim (knowing that it was not my best showing) was 58th fastest, but my bike showing (at 14th) is where I really made up some time and overall had the 38th fastest run. This was the first time (in a long time) that I got any sort of a placing medal, and was more than happy to bring home the "bronze" for the day.
I've done a couple of mountain bike races and a dirt road race this year, but this was my first triathlon of the summer in preparation for my 70.3 Rev3 event at Cedar Point on September 9th. This event is my personal fundraiser to support the fight against childhood cancer and looking forward to raising some money for this worthy cause (hey, how about you make a donation!?).
Next up is the state road race (Citizens/Cat 5) up in Traverse City on August 12th and then I'm headed over to Ludington on the 19th for the Lighthouse Olympic triathlon. That's always a fun weekend, as my grandparents live in Pentwater, just south of Ludington so it's a good weekend all-around and I've had a little cheering section the past couple of years with my wife, aunt and cousins coming over to support me. It's always nice coming across the line and seeing familiar faces.
Hopefully the next report will have even more good news from the road race next weekend, so keep your fingers crossed. It's going to be a busy weekend for WSI-Team Active Cycling, as we've got racers participating in events across the state. Good luck to my teammates and with any luck, we'll see you on the podium!
~Eric