Several WSI riders participated in Saturday's Tour de Frankenmuth. Overall, it sounds like it was a great day for racing, and a beautiful place to race! Check out the riders' full reports below:
Devin
The Tour de Frankenmuth kicks off the 2015 road racing season. This 40 mile race through the countryside around the Bavarian village of Frankenmuth has been a staple in the Michigan road racing scene for many, many years. Consisting of two laps of a 20 mile circuit, there are no real hills or technical sections that could be used tactically to form a breakaway.
The Cat 4 race had a field of around 40 riders, with some food team representation, so the potential certainly was there for team tactics in the race. However, true to Cat 4 form, all of the 5 breakaway attempts were covered by the peloton, including the one I launched with 6 miles to go. Prior to that, the race had been relatively uneventful. Except for the crash about 30 miles in. A rider to the left and one bike ahead looked back over his right shoulder and while his eyes were off the road in front of him, his wheel touched the one in front and he went down rather hard. Only one or two others went down. Remember to keep eyes ahead during the race.
With about 2 miles to go, and just prior to the penultimate turn, I maneuvered to the front for safety, and led the peloton up the final hill before the final turn to the finish. With speeds accelerating to almost 40 mph, it was difficult to hang on.
The only redeeming fact was that the difference between first and forty-first was less than one minute.
Pack finish within a minute of the winner with no crashes or mechanicals? I'll take it.
Scott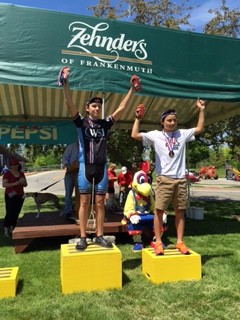 The 2015 Tour de Frankenmuth was my first road race. I did the junior category; a 20-mile flat race around the countryside of Frankenmuth. After last year's attempt at a road race, and the expert advice of my good teammates Devin and Danny, I knew how to race a bike, finally. With ten miles to go I first started to work, supporting an ally I established earlier, fighting cross winds, and battling head winds. With 2k to go there were three of us. With some fresh legs and a good plan I
was confident I was going to win, and with less than 1k, I attacked, and won. Big thanks to Devin Winton for teaching me all the tricks to winning a race, and to Bill at Team Active for making sure my race machine was ready.
Kevin
The race started out slow, around 19 mph, I started thinking I might have a good chance with these guys, until 5 miles in when a solo break away took off. The rest of the day was spent chasing this guy around rural Frankenmuth. At 32 miles, 8 miles to go, I dropped off the back of a small chase group and finished 14th. I finished better than last year, but there is still room to improve. Maybe a new set of wheels would help.
Rose
This race is flat, beautiful, and gives you a chance to see all kinds of different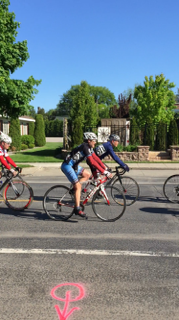 racers. Despite being windy, this race deserves some credit: it's well set-up and has a huge amount of support from volunteers and police officers. I don't take racing as seriously as the rest of my family but can have a lot of fun just by seeing any smiling WSI faces. This was my first official road race (before trying in road racing I tried mountain biking, triathlon, and duathlon). There's really not another feeling that compares to it being you, your bike, and smooth road. Seriously, you don't feel road like this in Calhoun County. This race was worth waking up at 4:30 and riding in a car (even if you're like me and you can't sleep in cars or you're the driver of the car). The community seemed open to the racers. Being the only 15-16 year old girl, it's not difficult to guess where I ended up finishing, and where I intend to race next year.