Many of our athletes venture into more than just cycling. While some view the sport of running as torture, others find pleasure in hitting the pavement on foot. Both Derrick and Cindy have done just that over the past month.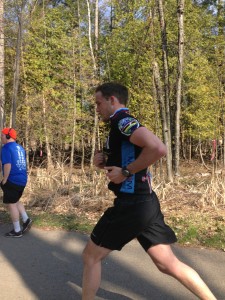 Derrick has been enjoying the Run Michigan Cheap series, which is a series of running races that highlight some of Michigan's great running paths and locations. His first event was a half marathon on the Kal-Haven Trail. Coming into the race he was ill-prepared with his longest training run being only 9 miles. The last 4 miles were filled with torture, pain and a push through it attitude. And push through it he did, with a finish time of 1:40. That translates to a 7:38 minutes/mile pace. Unprepared or not, that is a noteworthy time! His goal is to be under 1:30 for the next one.
The second in the series was tacked on to a vacation up nort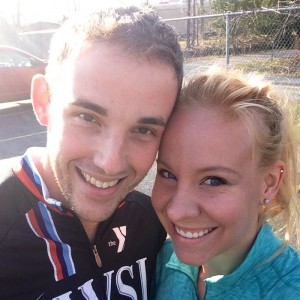 h in Traverse City. He felt the need to add at least some healthy aspect to the trip, despite the large amount of wine that had been consumed at wine tastings. He opted for the 10k instead of the half. The course was on the beautiful Leelanau Trail. He took the overall WIN with a finish time of 43:40 (7:01 minutes/mile)! Derrick has enjoyed the race series and recommends it for anyone looking for a fun, cheap way to run Michigan.
Cindy got bit with the running bug last year after training for her f
irst 10k. She decided this year to sign up with a group of area runners and complete Borgess Run Camp, a training program that prepares runners to the Kalamazoo/Borgess Marathon. Every week at during training runs, Cindy was decked out in her WSI gear and became known as the runner that runs in cycling clothes. The Borgess event took place on Sunday, May 3rd and there were over 8,000 runners registered in the 5 different events. With it being one of the first warm days of the year, she was not anticipatin
g a pace much faster than 10:30 minutes/mile. However, she finished the 13.1 miles in 2:08:15 (9:49 minutes/mile): an all time personal best! She placed 24th out of 119 in her age group. The only downside to the new adventure was the fact that this event takes place the same day as the Fort Custer Stampede and she had to miss out for the first time on the mountain biking action.
Cindy is excited to be able to use this new found love for running as a launch pad into a triathlon journey.