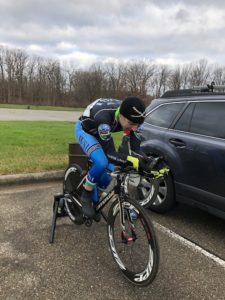 I have been racing the Willow Time Trial for about 10 years.  Usually windy and sometimes chilly- it is also a course that creates a mental game due to the 6 lap repeat.  It is always a good gauge of where my fitness is in April.  This year I came in a little under where I would prefer but felt pretty good.  But it was also 39 degrees and windy. Mentally not favorable and physically challenging.
I had a good warm-up but could not keep the legs turning over as I would have hoped. About a minute 20 off my usual time range for 6th place.  Not happy :).
I'll be racing this weekend in a duathlon with teammate Kevin Bridges where the weather again looks iffy, however, I am now ready to bury myself no matter what.
~Danny