buy xanax with echeck
alprazolam australia brands
best cheap drugstore lip liner
the best generic xanax
best xanax online pharmacy
generic xanax xr 1mg
where can i buy real xanax online
where to buy xanax in canada
This weekend was the Gull Lake Triathlon and WSI Cycling had several racers at the event. The Bridges family not only participated, nice warm and clear water. The bike was a rolling ride in Barry County on fairly good roads at least better than we're used to. The new Aero wheels I got this week worked wonderfully, I averaged over 20 mph, a first for me. Thanks Team Active! The run was hillier than I thought but I managed to get through it with a respectful run time. I was able to fix the mistakes I made at Seahorse earlier this season so I'm very pleased with my race.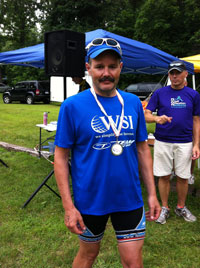 Katie Bridges
Why do I do these? Misery can be so much fun, I guess. I also did the Olympic distance triathlon, and also came in 2nd in my age group. This course is beautiful; the lake is crystal-clear, the bike and run are rolling hills. The weather was fine, warm and 70s as we started out, heating up to the low 80s by the end. I've never been a fan of running in the 80s, but I guess after complaining about a cold winter, what can I say? Today's goal was to work moderately keeping the heat in mind, and focus on the nutrition part. I did fine there. The swim just seems to take me FOREVER!! I just kept those buoys in my sight and worked toward them one by one.
By the time I got to my bike, I was so thankful to have some time to ride. The bike is my favorite part, and the rollercoaster hills were fun to play around on. Then I remembered… I need to have SOME legs left to run. The run was fine, but feels so slow after the bike! I like the out-and-back run, as I was able to see some of my WSI teammates, friends and family members finish up their race, cheering and giving High 5s. Gull Lake is a great race, I really enjoyed it as a first-timer, and I would recommend it to anyone who's looking for a great local race.
Scott Bridges
Gull lake triathlon was my first Olympic distance triathlon. The swim was very nice, but was a struggle at times, I had a very slow swim, with a lot of ground to make up I headed onto the bike. The bike course is great, with smooth roads and some hills made it interesting. With just averaging under 19 miles per hour, I felt great and saving something for the run, which is where I felt even better. Finishing strong and got 1st in my age group.
Marie Bridges
Gull Lake Triathlon was a great race. I did the sprint triathlon and finished in first in my age group and was the 7th women overall. The swim was nice and clear and seemed pretty short. The bike was great- only a few small hills and only like 10 miles. I was able to go pretty fast. The run was a 5k and relatively flat and on pavement. I started slow then got faster as the run went on. I wasn't able to see the finish line very well coming up to it, but I soon saw it and sprinted the finish. Pretty good food at the end, and another great race.