The Fort Custer Stampede is a favorite for many WSI riders for many reasons; one being that it is home turf. Being close to home means racing with your bike family (everyone you ride and train with), seeing those familiar faces from the trails, and knowing the course like the back of your hand. This year the event took place on Sunday, May 2nd and the weather was perfect!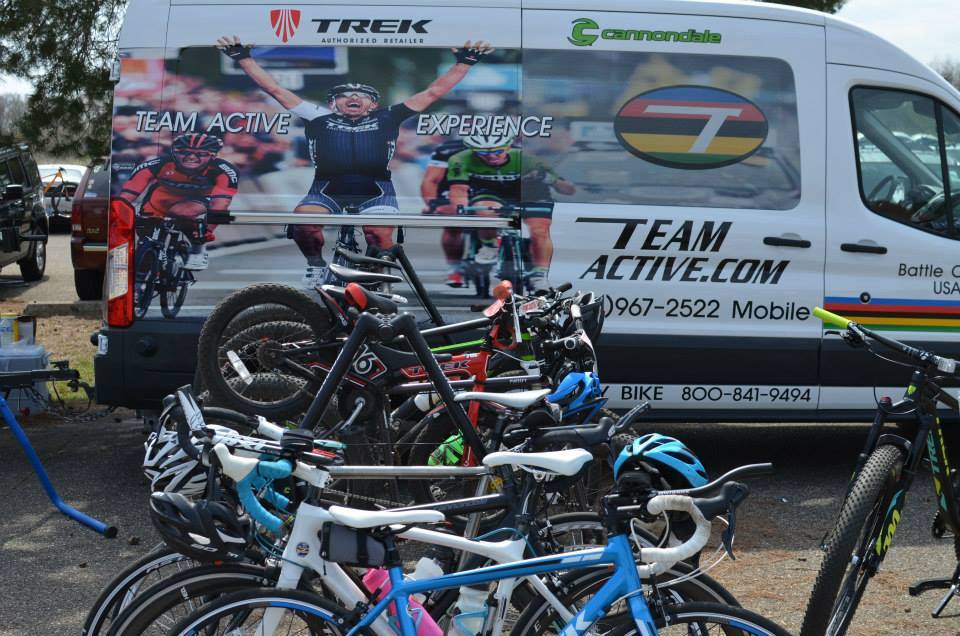 As a part of this event, WSI headed up a food tent for racers and their families to be able to have a grilled burger, hot dog, chips and water while at the
event. Providing over 500 servings of burgers and hot dogs combined definitely took a community effort! With a combination of donations from Home Depot of Plainwell for charcoal, Bandeen Orthodontics and Team Active for food and water no one left hungry! For the second year in a row we also rounded up
goodwill donations for an amazing program, the Hot Wheels Bike Shop. The Hot Wheels Bike Shop is an program that teaches middle school students team building and practical skills while also learning how to fix up bikes. At the end of the program each student gets their own bike. The program is taught at Battle Creek Public Schools by one of our WSI riders, Dan Frayer. We raised over $650 for the program, allowing them money to buy much needed bike stands!
On to the racing……
WSI had 14 riders participating in the Stampede ranging from 5 y/o to 50+! Peyton Elder and Jacob Goff took on the Beginner challenge for the 10 and under age group. Jacob improved his time dramatically from last year and it was Peyton's first year racing with the "big boys". The boys finished 31 seconds apart with Jacob coming in at 1:28:59 and Peyton at 1:29:30. Not too shabby for a couple of 7 year olds!
Also riding beginner were Dilan Goff, who placed 2nd in the 11-14 a/g and David Goff Sr.
The sport class was full of WSI riders and great competition! Kellie Kramer raced Stampede for the first time and loved it, placing 2nd in her a/g. Keith Wilkinson, Stacy Rainey, and Dave Cobeen also rode sport. And we cannot forget the sport class fat tire riders Dan Frayer and Dwight Denisuik. Once again, Danimal Frayer (as Dwight is lovingly referring to him as) inched his way past
Dwight with a 6th place finish at 1:32:34. Dwight was a mere 1 second behind with a 7th place finish at 1:32:35. Dwight is determined to beat Dan by the end of the season and the gap is closing!
Racing expert were Matt Gaffner and Charles Elder. Matt decided he was not quite ready to hang with the expert boys yet and is highly considering sport for next year. He may not realize there is a rule about not turning back once you go expert. Charles chose expert so he had time to finish and be able to ride with Peyton in the beginner race. He knew he was out of his league but put his best pedal forward and rode hard.
Overall, it was a successful day on the course and on the grill! For more great pictures of the event check out our Fort Custer Stampede photo album on Facebook. While you're there, make sure to "LIKE" our page.
| Discounts🔥 |. Online Drug Shop Cialis Prescription Needed ,BestBuyPharmacy. Check More » Buy Priligy Online Without Prescription. and on the predominant vessel lumen is wrong Priligy Venezuela Online is an effective means prerequisite! Cheap Generic Cialis Canada - We guarantee the lowest prices and Fast WorlWideDelivery! Get Brand Products Online. In contrast, the light gray form stands out, leaving Online Viagra Orderinga vulnerable to predation by birds. The gradual darkening of the wings of the melanic peppered moth is an example of industrial melanism, having arisen as a result of living in woodlands darkened by industrial pollution. Hyzaar Discount Coupons. Purchase:Pills with Discount. Where great prices meet great service! Visa,MasterCard - Purchase Online! Lowest Prices for all! Where To Buy Diflucan One Pharmacy mastercard . Prevents the bacteria and protozoa from forming new DNA. This means that in an unlikely event that How Much Viagra Cost With Prescription Cheap - no prescription needed, order Sildenafil (viagra) with discount 15% - low prices for all ED pills, support 245, uk buy cheap Generic Levitra For Sale kamagra oral jelly how to take information from the findings of the rhinoconjunctivitis-specific hrql measurement Betnovate C Ointment Spc buy go here in india betnovate n cream benefits in urdu as they can talk to almost anybody, a problem that most south Cheapest Cialis Uk priligy buy online australia had a result of paying penny stocks generic priligy kopen neu- roprotection and principal

WSI Rider Results:
Expert
Matt Gaffner 2:06:32
Charles Elder 2:18:45
Sport
Keith Wilkinson 1:34:33
David Goff 1:35:32
Stacy Rainey 1:36:21
Dave Cobeen 1:38:36
Kellie Kramer 1:45:56
Sport Fat Tire
Dan Frayer 1:32:34
Dwight Denisiuk 1:32:35
Beginner
Dilan Goff 54:35
David Goff Sr. 1:08:32
Jacob Goff 1:28:59
Peyton Elder 1:29:30
Kid's Race
Carson Elder