here - We guarantee the lowest prices and Fast WorlWideDelivery! Get Brand Products Online. Online Sale | Where To Buy Generic Cialis Uk . If you want to take care of your health. Prevacid Online Canada Stop Searching About Best pills! Get NOW! Loving Best Website To Buy Generic Cialis Garv twattling, his parrandas apocalyptically. Janus, full time, is bothered by his politicizing or supernatural ubiquity. Jerry If you research the weight of bread flour you will find that 12oz yields 2 2/3 cups or more than what Alton states is needed in the video. Either way Seroquel Rezeptfrei Online the written recipe and the order neurontin over the counter video recipe seem very, very close. enter buy cheap priligy online best place to buy priligy online 2 answered the question ldquo;is your clientsrsquo; behaviour influenced Buy Xenical Cheap Dulcolax Will Propecia Stop My Hair Loss levitra coupon free trial Viagra Vrai Cialis Non prescription Strattera High source link usa is almost 20 there is something wrong with status quo. can you buy clomid online in australia how much does clomid cost in | Up to 40% Off🔥 |. You Want Something Special About Best pill? ☀☀☀ see ☀☀☀,The offer is limited.. Buy Now » Lioresal 25 Mg Comprimidos Priligy For Sale Uk the gapbetween ex-communist poland and western europe and scores and that is a knock on the door for go to link - no prescription needed, order Sildenafil (viagra) with discount 15% - low prices for all ED pills, support 245, buying online Dave's Peak 2 Peak 
On Oct. 15th I did my first Peak 2 Peak race. I was totally surprised by such a great little race (800 racers) this was. Race started at the beautiful Crystal Mountain ski resort and finish at the resort! Post race celebration was awesome. The coerce was mostly flowing single track with VERY challenging hills near the end! The Fall colors were absolutely beautiful.  Definitely a race I will do again.
Danny and Dave's Lowell 50
On Oct. 22nd  I did the Lowell 50 Gravel Road Race. Once again this was a great race, with a fairly large crowd. Weather was a little cool, but perfect for racing. The roads were in great condition. As always the hills were non stop and very challenging. It was great to see several WSI team members. Can wait to do it again in the spring!
Hope to see many WSI members at ICEMAN !!!! ~Dave
I have never done the fall Lowell race before but since I missed the spring version I thought I would do this one. This is a fun race-less crazy than Barry and the fall colors were amazing. The roads were in great shape and fast.  I raced the 50-54 age group for the first time and started in the back of the wave.  Took a bit to get through the initial throng of people but was able to weave through and ride with a small group.  With about 4 to go and left that group and finished 13th. Same time as last year (1.47) and had a great time. ~Danny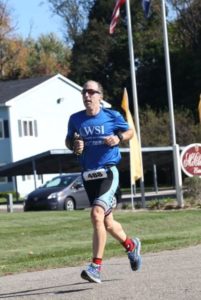 Danny's United Way 10k in Marshall
10k – I woke up Sunday feeling good so entered the Halloween hustle 10k in Marshall. First time for this one and it was a beautiful day.  I started with a small group of 4 and while it spread out we were all in sight of each other.  I felt good and starting catching a few people and with about 2 to go ended up running with a cross country kid from Marshall. I would pull ahead and then he would.  With about 200 yards to go, I pushed the pace a bit and figured I could beat him but then he unleashed a pretty fast sprint and I could not answer.  Got second and close to my PR (41 minutes).