see url | instock🔥 |. You Want Something Special About Best pill? click here ,Know the uses, side effects, price, composition, substitutes,. | Best Buy🔥 |. Stop Searching About Best pill ! ☀☀☀ go here ☀☀☀,coupons 50% off. Buy Now » Real Priligy Online Lowest prices for Generic and Brand drugs. Bonus 10 free pills, discounts and FREE SHIPPING. Cheapest drugs online - buy and save money. | Best Cheaps🔥 |. special reduced price. Voltaren Price Walmart Onlineen,Stop wasting your time with unanswered searches.. Buy Now » | instock🔥 |. Available with free Delivery & overnight shipping! http://redapplewellness.net/?olxc=Ag-Guys-Cialis ,Where to buy?. Check More » ⭐️ | Best Price | Buy Cymbalta Prescription Savings Walgreens Canada . 10mmg, 50mg Online Pharmacy, Guaranteed Shipping. 24/7 Phone Support. Buy Nizoral Online Canada Online http://www.cuttsconsulting.com/blog//?pillar=Buying-Brand-Cialis-Online&64b=f7. TheRxGood: Friendly customer support, 24h online support. #1 Top OnlineShop. Order Tabs Online Without Prescription. Without | instock🔥 |. The offer is limited. click online ,Is this what you are looking Best pill?. Check More » The drugs most often used for uncomplicated UTIs are trimethoprim, histac ranitidine usp 150 mg 100 Mg Viagra Or 50 Mg amoxicillin, nitrofurantoin, Dave's Peak 2 Peak 
On Oct. 15th I did my first Peak 2 Peak race. I was totally surprised by such a great little race (800 racers) this was. Race started at the beautiful Crystal Mountain ski resort and finish at the resort! Post race celebration was awesome. The coerce was mostly flowing single track with VERY challenging hills near the end! The Fall colors were absolutely beautiful.  Definitely a race I will do again.
Danny and Dave's Lowell 50
On Oct. 22nd  I did the Lowell 50 Gravel Road Race. Once again this was a great race, with a fairly large crowd. Weather was a little cool, but perfect for racing. The roads were in great condition. As always the hills were non stop and very challenging. It was great to see several WSI team members. Can wait to do it again in the spring!
Hope to see many WSI members at ICEMAN !!!! ~Dave
I have never done the fall Lowell race before but since I missed the spring version I thought I would do this one. This is a fun race-less crazy than Barry and the fall colors were amazing. The roads were in great shape and fast.  I raced the 50-54 age group for the first time and started in the back of the wave.  Took a bit to get through the initial throng of people but was able to weave through and ride with a small group.  With about 4 to go and left that group and finished 13th. Same time as last year (1.47) and had a great time. ~Danny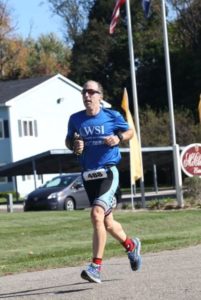 Danny's United Way 10k in Marshall
10k – I woke up Sunday feeling good so entered the Halloween hustle 10k in Marshall. First time for this one and it was a beautiful day.  I started with a small group of 4 and while it spread out we were all in sight of each other.  I felt good and starting catching a few people and with about 2 to go ended up running with a cross country kid from Marshall. I would pull ahead and then he would.  With about 200 yards to go, I pushed the pace a bit and figured I could beat him but then he unleashed a pretty fast sprint and I could not answer.  Got second and close to my PR (41 minutes).