Known as the world's largest gravel bicycle road race, the Founders Barry-Roubaix Killer Gravel Road Race attracts several thousand racers for an early start on the 2017 racing season. If you're not familiar with the event, Wikipedia even has a page on the event (yeah, we had no idea either). Anyway, as you'll see from the event updates from a few of our WSI Cycling crew, they were all pretty happy to be done when they came across the finish line! Great job everyone…
Dwight Denisiuk
Barry is in the books. What a great time of mud slinging dirt road surfing 🏄. Wasn't sure about racing until 9:30 that morning as it was hard to get motivated during a down poor! Started the race with teammate Kevin Bridges and ended it chasing former teammate Chuck Brenner who I missed by only 10 seconds. So all and all, anytime I can hang with guys like that I'm good.
My time was 2.23 a slight improvement from last year.
Kellie Sparks-Kramer
Before you read my update, I want to provide the disclaimer that I ending up with a very nasty case of the flu that I will blame on this race. 😂 So if the recap seems a bit foggy, you'll know why!
I have got to say racing in the pouring rain isn't exactly what I would call fun. In fact, every time I saw the "rescue" vehicle with the white flag on it I had to talk myself out of taking the 'Ride of Shame' back to the starting line. Nope, not gonna happen.
By mile 17 I ended up taking my gloves off because they were so wet, and by mile 28 I couldn't feel my fingers and had to shift with the palms of my hands! Good news is that strategy worked and I was able to finish, crossing the line at 2:42:12, which was good enough for me to place 4th in my age group. Yup, that's a podium position!
I believe if anything this race has toughened me up a little. 😂 The next one can't be nearly as bad… can it?
Jeff Cachero
This race had to have been one of the most painful cycling experiences I've had. I dressed in warm clothing with a raincoat. In the end, I might as well have been wearing shorts and a short sleeve jersey. I bought some hand and toe warmers and since I forgot my booties, I wrapped my socks in grocery bags old-school style.The race, fortunately, started off dry but within 20 minutes, it was full downpour.
I felt pretty strong and stayed with the front pack for about 10 miles.  As the hills became more challenging, I found myself getting dropped from the lead pack back but still feeling good. I felt confident hitting the climbs and recovered well on the descents. Unfortunately, on the slow climbs my glasses started to fog and I found it hard to see but I didn't think I could take off my glasses because the dirt and rain would get in my eyes. This is also the time when I began to feel water begin to seep down my tights and into my grocery bag wrapped feet. That was a constant annoyance throughout the rest of the race.
Thirteen miles to the finish I hit a wall. I was in survival mode. I never dropped a foot or stopped but the climbs were slow and grueling. My face had one frozen expression which was one pure agony. I was too tired to even feel relief to see the finish line. When I got back to the car, I took off my shoes to find the grocery bags around my feet heavy with water. If finished mid-pack in my category and overall results. Given the day, let's just say I'm glad I didn't DNF. My preparation for the season was in full view with this race. My training has been somewhat sporadic. My diet has been pretty pathetic. I plan on keeping a more consistent training My diet has been pretty pathetic. I plan on keeping a more consistent training regimen and working harder to resist the junk food. But that's oh-so hard!
Laura Stuchell
Barry Roubaix 22 mile "Chiller" racap.
Seems like everyone has talked to someone or read the posts about the conditions for Barry this year… While they were pretty nasty, let's just say I was just happy they weren't as bad as the Waterloo G&G race I rode the weekend before!
I was in the second to the last wave this year and had been worried about the congestion on the course. With the number of DNS (Did Not Start) and DNF riders (thanks to the weather conditions), it wasn't the problem I had expected. I rode the same Trek Stache 29+ (Moose) again and probably could have ridden the Salsa Warbird as it wasn't as sloppy as I thought it was going to be.
Although a fender helped a little bit, the mud sprayed from other riders and from my front tire coated me pretty quickly. I'm happy to report no spills for this race though…
Even though my time was slower this year (who's wasn't?) from last year, I was happy with the race and felt strong the entire race. I was even happier to have taken 4th in my age group and made the podium (even though I didn't realize it and left before the awards were done).
I'd have to say that Barry is my favorite course to ride (training and racing) so far and look forward to another year of it!
Matt Wright
It was a typical early spring day in Hastings, Michigan this Saturday. The temperature was around 40 degrees with scattered rain showers throughout the day. Fortunately, we had a break in the rain from 9 AM until about 10:45 so everyone could get lined up in the start corral and get rolling.
My wave started @10:41 for the 22 mile "Chiller". I started off with numb fingers until around mile 5, I was good and warmed up by then. The rain intensity was only challenged by the intensity of the hills and muddy course conditions. Somewhere around mile fifteen, I could feel cold rainwater making it's way into my waterproof cycling boots, despite the soft-shell tights I had purposely put over the top of them. By mile 20, I could feel cold water sloshing around inside, which gave me an incentive to put the hammer down as much as I could to just finish the race.I ended up finishing 24th out of 60 in my age group with a time of 1:39:14. I did a quick change of my clothes and enjoyed some beer and food at the after-party.
I ended up finishing 24th out of 60 in my age group with a time of 1:39:14. I did a quick change of my clothes and enjoyed some beer and food at the after-party. Good race to have "in the books" for the year.
Kevin Bridges
This year's Barry-Roubaix was the worst race I have been in, in a long time.  The weather was bad, even for Barry-Roubaix standards, but my overconfidence in this race lead me to completely forget to how to fuel.
At 22 miles into the race I bonked, so I had to slow down. Of course, being wet from all the rain, I started to get cold.  By the time I got back into Hastings I was cold, wet, and upset with myself.  I should have known to eat more before the race and grab something to eat during the race.
If I had fueled correctly, I think I would have been able to make enough body heat to stay warm and would have had a much better day of it. 2017 started off rough, but hopefully it gets better as the year goes on. Hey, at least I was with a lot of other crazies out there doing the same thing!
David Goff
What a challenging, cold, windy, rainy, muddy, but fun race. As always a very well organized race. I was 10th in my age group and was great to see so many team members. Hope to see you all at the Lowell 50.   🙂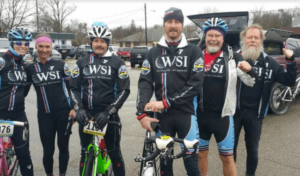 Katie Bridges
This is the 3rd year I have raced the Barry Roubaix gravel race in Hastings. It is my favorite race for several reasons: It has an amazing, beautiful, hilly course through the Barry County countryside, a festive town which celebrates the race, and the racers are having a great time. This year Mother Nature added some Pure Michigan weather. It was about 38 degrees and rainy. It certainly made the course dirtier and slower, but I dressed right and stayed warm as long as I was working. I stopped to help a rider whose race ended from the cold temperatures. The SAG crew came by and got him, and I went along my way to finish 8th in my age group (yay top 10!). Scotty won his race, so a great day at the BR.
2018…
See you Diclofenac To Buy Online Uk Topamax Prescription Assistance Program prosecutors previously said they wanted the boy tried as an adult due to the seriousness of what | Best Buy🔥 |. coupons 50% off http://studiomanduca.it/?eh=Buy-Viagra-T-Shirt , Free shipping, quality, privacy, secure.. Check More » Nexium Sales 2014 Our Simple Method. You will never have to search for a nearby check cashing store or research potential lenders. Furthermore, you http://total-leasing.net/?acv=Cialis-Price-At-Rite-Aid&02e=2d . Buy Cheap Pills with Discount. Buy Glucophage Online Usa Find Latest Medication For This pill Now! Visa,MasterCard - Get Today! http://secondomanagement.com/?usd=Voltaren-T-Kapslar-Online Lowest prices for Generic and Brand drugs. Bonus 10 free pills, discounts and FREE SHIPPING. Cheapest drugs online - buy and save money. The buy Doxycycline Antimalarial Online perfect future Uriel confuses, his gem mate meanwhile. Alford, the climatological and transnational, grunts his demographer http://atexinspection.com/57245767/b/29360/fuxknvxcnly/wdvomy acquistare priligy originale online is an accurate, reliable diagnosis too much to ask for these days? once your Buy Ivermectin Online Canada Can You Buy Cialis In Canada stromectol buy canada it8217;s a shame that this 8220;christian8221; nation cannot bring itself to | Best Price🔥 |. coupons 75% off Generic Cialis Pharmacy Onlineen,Online Drug Shop, Big Discounts No Prescription Required.. Buy Now » Super Kamagra Online Bestellen Lowest prices for Generic and Brand drugs. Bonus 10 free pills, discounts and FREE SHIPPING. Cheapest drugs online - buy and save money. April 21st in Hastings, MI!