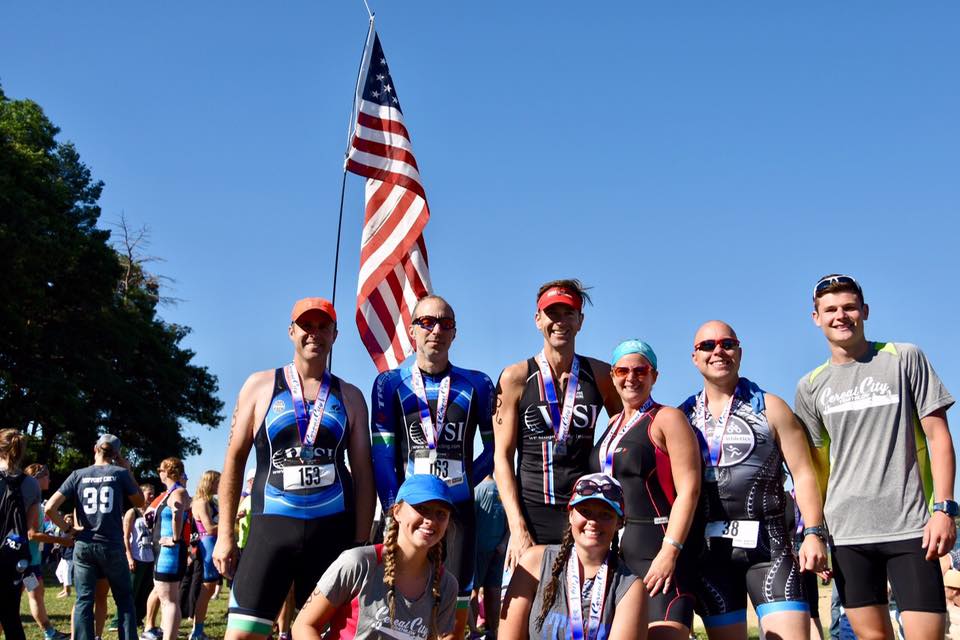 On Saturday, July 29, WSI had a great presence at the Cereal City Triathlon in Battle Creek. In it's 5th year, this event is on home territory. The WSI team took it head on with several podium finishes with overall male, Brandon V, and overall female, Maggie W.
~Dan W~
This was the second time I have done this event and as usual, the Cereal City Athletics folks had it dialed in.  I did the sprint duathlon again which was a 3K and 5K run with a 20K bike.  With all of
these races, I really work hard to have a clean race I can be happy with.  Were my transitions clean, were my run times good and was my ride comfortable and fast:).  I was aiming for a sub 1 hour event but due to a slightly slower bike I was over the hour mark.  Overall, I was very happy with the win and my teammate Josh got second which was awesome.  CCA really does a nice job with their events – great volunteers and a very nice post race set up including some very unique awards.
~Nikki~
Being behind the scenes since 4:30 am for the event didn't seem to take its toll until after I finished and sat down. I enjoyed every second of the event despite the prerace jitters when I heard women
were stating first (I have a HUGE past with water, panic attacks and not being able to handle people swimming around me). However, I am happy to report the swim went incredibly smooth and was actually the first triathlon swim where I was able to keep my head in the game and not have to rely on any alternative strokes despite being trampled by the faster male swimmers. Coming out of the water, I was ecstatic heading to T1 and hopping on the bike. I put out a solid ride. I was determined to not let Charles pass me. I caught a glimpse of him near the turn around at the out and back course and couldn't quite hold him off. Mind you, in any real race situation I would NEVER stand a chance, but his aero-bar fatty isn't quite his usual race bike. Despite catching me, he couldn't pull away and we went in to T2 neck-in-neck. The run is always the part where the struggle bus hits. It is currently my weakest of the 3. I held consistent (not fast, but consistent) with a finish time several minutes better than last year. I placed #1 in Athena by technicality (I was THE only woman registered as Athena). I credit my great race and the amazing atmosphere to the over 70 people that joined Cereal City Athletics in triathlon training groups this season.
~Charles~
I am not in a race mindset currently but couldn't pass up participating on the Cereal City Triathlon. I decided to have a little fun with this event and ride my Trek Farley. I even deck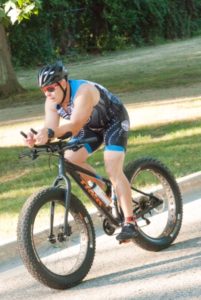 ed it out with aerobars. I got a lot of laughs, comments and questions about that one, for sure! My morning started at 4:30 am with event set up and my day wasn't over when I crossed the finish line. Along the course I passed several people who were determined to NOT let me pass them and consequently had a few choice words for me….all in good spirit though. I chased Nikki down, caught her shortly after the turn around, drafted off of her for a bit and pulled ahead, but not by much. I could not shake her after pushing so hard on the fatty for the first half of the ride. My run was solid. I did not expect a podium finish and I did not get one. This season I had helped coach a group in the Cereal City Triathlon training program and it was great seeing all of those athletes on the course setting new PRs and some of them completing their first triathlon. It is a great community to be a part of!
~Josh~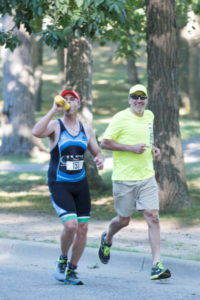 The Cereal City Duathlon was my first multi-sport race after a knee injury derailed my race season last year.  I'm still rebuilding my base and getting my speed back but really enjoyed this du as it felt really good to get back to it.  My run and bike times were pretty much right where I thought they'd be and I raced well.  While a few runners were well ahead of me on the first leg, including teammate Danny, my strategy turned to gaining as much time on the bike over the runners before going into the final run.  I was able to put several minutes ahead of many of them and finished 2nd overall, which turned out to be great knowing Danny finished 1st.  It was a great day for WSI and as always, the event was one of the best around thanks to Cereal City Athletics and all the great volunteers.  Can't wait for new year!
~Holly~
It was a great day to Tri! Air was cool. Water was warm. Sun came out. Humidity was low. Friends all around. The Cereal City Triathlon is like family every year. It's our hometown event and Cereal City Athletics always puts on a great event. The course was well marked and the volunteers were rock stars encouraging and keeping us safe along the way. I was fortunate to coach newer triathletes, with WSI member Katie Bridges and Laurie Oleska, as part of the Cereal City Triathlon Training program this year. I love the out and back of the bike and run in this event because triathletes are
always so encouraging of each other. Because of my Mom's Run This Town (MRTT), Cereal City Athletics Adventure Club and WSI connections it felt like I knew everyone on the course with added to the enjoyment of the event. My swim felt like a struggle but I made it out of the water and to the bike where I was able to set my sights on the riders in front of me and pick a couple off along the way. As part of the Cereal City Athletics Triathlon Training I was able to hear Rob Lillie (Lillie Inspired) discuss the transition from bike to run and give us some tips for easing the process. As I left transition for the run I employed one of his tips and had one of my best runs in a long time – even after a swim and a bike! I felt good coming into the finish and was pleased to end up with a 3rd place age group podium finish. It was like icing on the cake
And that's a wrap.