The Iceman Cometh again for 2015. With over 5,000 amateur and professional racers, the Iceman is undoubtedly the who's who of mountain biking and an epic ending to any race season. It is a love/hate relationship with riders and a time of unpredictable weather. It is a test of endurance, patience and passing ability.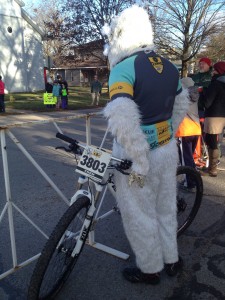 The WSI flag was flying strong at Iceman this year with 10 riders rolling up to the Iceman start line. For some it was their first experience. Katie Bridges raced it as a bucket list item. The result: she is already considering returning. For others, it was a return to the event. Both Matt and Kevin had not been at the start line for years. And for the rest of our WSI crew, including Charles, Keith and Dan, it was a yearly tradition that just keeps pulling them back.
The morning began beautifully. Riders were heading out from Kalkaska to Timber Ridge Resort in 2 minute increments with the sun shining and temperatures hanging at a brisk 40 degrees. The weather, however, did not disappoint Iceman enthusiasts. The rain began and along with it the sleet giving riders a brief period of face pelting reality of November Michigan weather. Although short lived, along with the rain and sleet came the clouds turning the finish party into a chilling experience.
Riders crossed the finish with smiles, excitement, and new goals for their return next year. Some even had enough umph left in them for a little finish line production (Ahem, Matt). Until next year, Iceman….