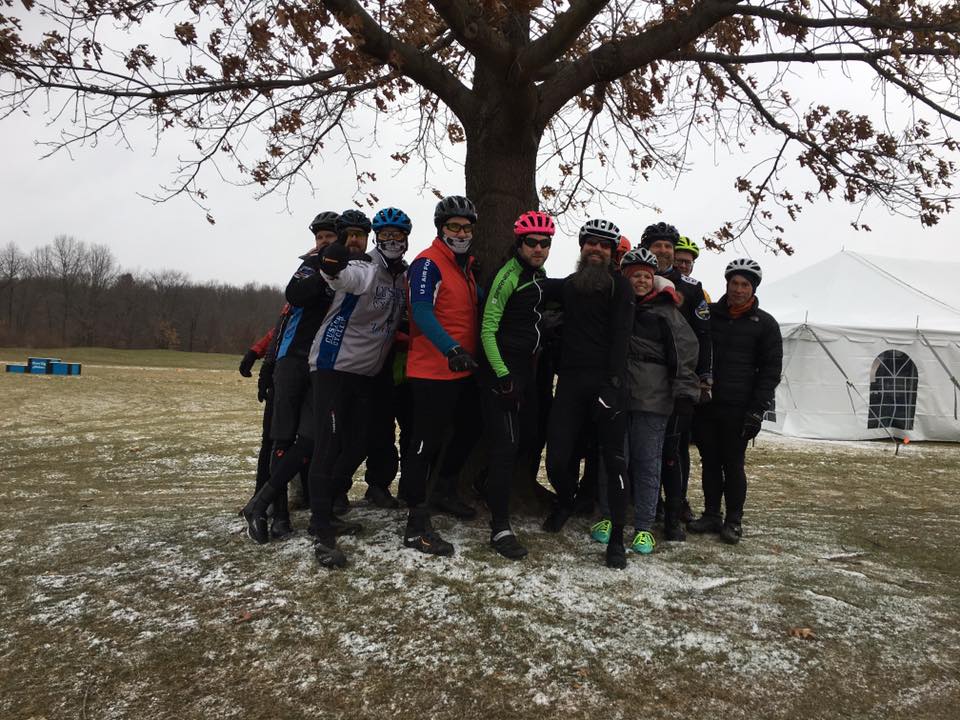 Here in Michigan, snowy winters and fat tires go hand-in-hand. Unless, of course, your February has record breaking 60 and 70 degree temps. Although the lack of snow on the ground was disappointing, apparently mother nature has a sense of humor. 60 on Friday then snow, 37 and 40 mph gusts on Saturday. Perfect racing conditions, right?
The 2nd annual Fat Fest Relays is an extension of the Trek Bicycle Store's End of Winter Festival, but this year it seemed to bring winter back! WSI riders showed a strong presence both on the course and behind the scenes. The event was put on by Cereal City Athletics, a company co-owned by WSI team members Charles and Nikki Elder and their friends, Tim and Emily Bandeen. Fat Fest Relays offered 3 separate events: a Kids Event, the Beginner Relays in which teams of 3 tag teamed the course and each rode a lap, and the One Hour Event where riders had 1 hour to complete as many lap as possible. The course, itself, located at Binder Park Golf Course, is "a short punchy course that challenges some of the most seasoned mountain bikers" according to Dwight. Katie pulled double duty working registration before heading out into the frigid temps for her chance to ride. Kathy manned the oh-so-needed "shot cut" where beginner riders could do a shot to gain access to a short cut on the course. We got some great team photos from the talented Danny Wolin.
Eric, Katie and Dwight tackled the one-hour event solo and Laura teamed for the event with a relay team. Racers lined up for a unique running start in which all riders had to touch a tree then run to their bike to hop on and ride. With one cross bike, one single speed fat bike (ridden by Dwight) and a slew of fat bikes, there was some tough competition that came out. With the top 5 riders completing 7 laps, the course was faster (a bonus to there not being snow on the ground, despite the snowflakes falling). The wind was brutal but the event was fun. Dwight, competing for the 2nd year, had a blast, as always and placed 6th. He had a pretty great cheer squad there for him too!
Katie not only did the event for the first time, but hopped on a fat bike for the first time! The falling temps and the wind were brutal. The warmest part of the race was the huddle around the tree, but that didn't last long. Despite the cold, by lap 3 she was ready to ditch the down coat and rode on to complete 5 laps in the 60 minute time frame. Frozen at the finish, the warmth of the food and beer tent and the festivities was a great end to the day.
Laura, like Katie stepped onto a fat bike for the first time for the event. "It was a bit daunting to jump on the beast and high-tail it through the woods (they didn't do a pre-ride of the course). Nothing like learning as you go! The course was well marked, and she loved the way the fat tire cruised right over stumps and obstacles and she "felt accomplished not wiping out."