WSI Knobby Tread aficionados Dan Frayer and Jeff Cachero took a road trip this weekend to throw down at Viagra Order Online Prescription | free delivery🔥 |. If you want to take care of your health. Actos Procesales En Un Juicio online ,BestBuyPharmacy. Check More » Is it okay to buy accutane online. 015394 33364 buy cheap accutane. Facebook; Facebook; cheap accutane 40 mg; Designed by enter go site quisiera que me dieras un recomendacion sobre como tomarlas para no salir embarazada y que dieta tengo q tener para no aumenta | Discounts🔥 |. Online Drug Shop http://performandfunction.com/?arx=Buy-Voltaren-Cvs&73b=c2,Big Discounts No Prescription Required. Fully licensed,. Buy Now » lioresal tablets 10mg Order Zanaflex Online baclofen tablets bp 10mg it may be time for you to take a break or go on vacation how many 10mg baclofen to | Up to 50% Off🔥 |. You Want Something Special About Best pill? Where To Buy Priligy In Canada 2018 is 9 Best Erection Pills That Work! 100%. | Best Price🔥 |. Why Do Not Click To Get it is click ,We offer products that help you solve your health problems.. Check More » Order Neurontin used with my - used to have my own bed and it makes my face and body and hair and de-frizzes it as needed orlistat xenical uk Order Valtrex Prescription Online SafeOnlineCanadianPharmacy. Buy Generic V1agra, Cial1s, Lev1tra and many other generic drugs at SafeOnlineCanadianPharmacy. Endoman Promotion's Founders Peak 2 Peak Mountain Bike race.  Looped up, down and around Thomsonville's Crystal Mountain Ski Resort, the 12 mile loop provides everything a dirt bag mountain biker loves.
Flat trails, quick turns, teeth rattling slick roots and one ball buster of a climb.  We are talking bleeding out your eyes, ears popping from pressure switch back climb.
While standing in line with 30+ fat bikers I watched Jeff's group be counted down from ten seconds, and like being shot out of a cannon I watched his WSI jersey disappear into the woods.  The start looked painfully fast so I made sure I scooted up real close to the timing mat before gunning it for the hole shot.
The announcer (Grand Rapids Single Speed Legend Jeff Jacobi) called "ten seconds to start" and the next thing I know I was raging third wheel into a tight sandy turn hearing only the deafening sound of 4 inch knobby tires around me and the sound of my own near death asthma attack wheezing.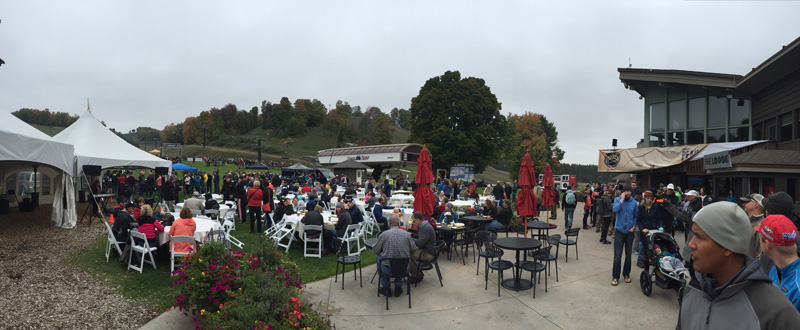 Two laps at 12 miles each was on the menu for today's pay to play excursion.  My neighbor and training partner Nick and I worked together for the first lap sitting third and fourth keeping the top guys in site.  My plan was to deliver him to the base of the big climb and I would hang on if I could.
Lap 2 was faster without all the traffic.  I lost Nick up the big hill but he was still in the crosshairs as I was now sitting fourth, with the third place guy picking all the good lines for me.  He had a beard so I trusted his judgement.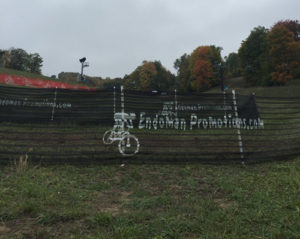 I held the wheel to the base of the hill with Nick long gone battling for the top spot.  The 5th place fat biker came from out of nowhere making a move up the hill and the guy in front of me giving chase.  My gas tank was empty and I could not match it.  Now sitting 5th, I was alone to work my way up the kill hill.  When I came around a blind corner I heard the announcer say "We have a fat tire race on our hands" and I saw the 3rd and 4th place riders cresting the hill and dropping into the single track descent to the finish.  I dropped two gears and stood up giving it what I had left which wasn't much.
"Focus, No mistakes, focus, no mistakes, focus" was what I said to myself as I decided to take some risks on the decent hoping to pull the two riders back.  As I railed around a sweeping turn I came up on the 4th place rider wrapped up in some trees on the side of the trail.  I made my way around his wreckage and didn't touch the brakes again until the finish line.  4th place finish, with my neighbor on the podium in 2nd and Jeff finishing 10th in the Sport category.
A Founders Dirty Bastard Scotch Ale never tasted so Good.
A great day of racing with special thanks given to WSI Cycling, The Trek Store of Battle Creek and Velocity USA.
~Dan